June 29, 2023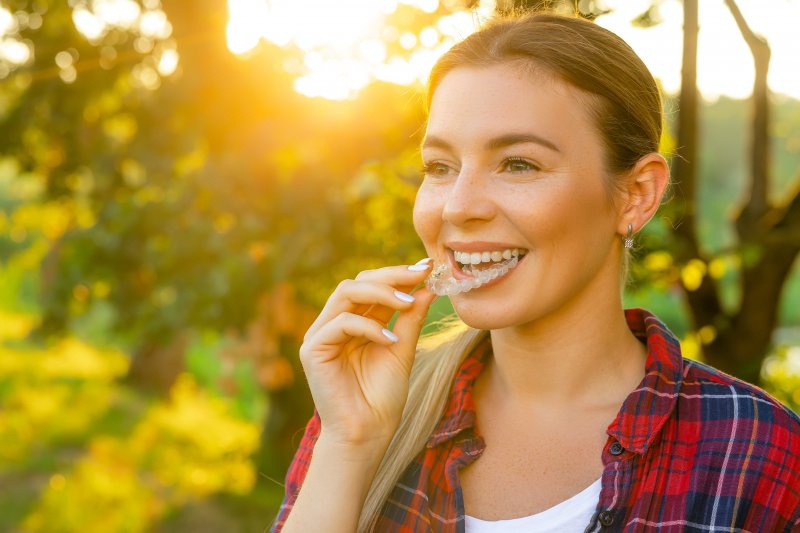 If you have a crooked grin, you've likely weighed Invisalign. The procedure is a great way to bring your smile into alignment. That said, maybe you haven't decided when to begin it. You happen to be in luck, however: this summer is a great time to start Invisalign. Kicking things off now would offer major benefits to your smile. As for what these are, let a local orthodontist tell you. Read on to learn the four big perks of starting the Invisalign process this summer.
Subtle Treatment Without "Metal Mouth"
Whether it's a selfie or a group picture, commemorative photos are a hallmark of summer. Unfortunately, standard braces can ruin these images. They give the patient a "metal mouth" – a smile that distracts viewers with its brackets and wires. As such, photos of you wearing braces don't make great summer recollections.
Fortunately, Invisalign avoids the "metal mouth" problem. Its aligners are clear and fit your teeth seamlessly. Given this fact, treatment is nearly invisible to the naked eye. It'd let you have a camera-ready smile throughout your smile-aligning journey.
Flexible Visit Times
For most of the year, you might be too busy for dental work – orthodontics included. Even a simple one-hour appointment may not fit your schedule. Consequently, the time needed to start Invisalign can seem out of reach.
Even so, summertime is different. It has built-in flexibility, letting adults take more time from work and giving kids a school-free season. As a result, this period leaves you with plenty of room for an orthodontist visit. There wouldn't be major time commitments that might interfere.
Easy Eating of Summer Foods
If you don't already know, summer has many seasonal foods. These include BBQs, hotdogs, hamburgers, and more. Even so, metal braces can interfere with such items. Their brackets and wires often trap "leftovers," making later teeth cleaning harder.
Invisalign, though, has no such issue. Its aligners are removable and therefore don't trap foods. Consequently, they don't require extra cleaning efforts. You only need to rinse and brush the trays a bit before putting them back in your mouth.
A Straight Smile for Next Summer
Braces provide solid results, but their effects can take a while to show. The average treatment with them even lasts roughly two years. So, getting them now would mean two more summers without a straight smile.
In contrast, Invisalign only needs a year or so to work. That means starting it in summer should give you a rightly-aligned grin by the next one. From there, you could reveal your uncrooked chompers amid the summer fun.
Ultimately, summer really is a great time to start Invisalign. With that said, book treatment now to enjoy the perks above this season.
About the Practice
Serenity Orthodontics is based in several Georgia locations, from Cumming and Braselton to Roswell, Jonesboro, and Suwanee. Led by Drs. Podray, Lewis, and Grochowska, our practice provides the best orthodontic work possible. We thus offer traditional orthodontics and clear aligners, not to mention a variety of emergency oral procedures. Best of all, each of these services uses the latest dental technology. For more information or to book a visit, you can reach us on our website or by phone at (678)-879-3006.
Comments Off

on Why Summer is a Great Time to Start Invisalign
No Comments
No comments yet.
RSS feed for comments on this post.
Sorry, the comment form is closed at this time.