June 13, 2023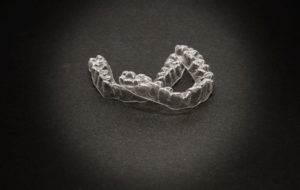 Invisalign is a popular alternative to metal braces for straightening your smile. Made of clear, durable plastic, they fit over your teeth to gently push them back into place without bulky metal brackets.
You might have questions about whether this is the best choice for you, however, if you know that you frequently grind your teeth together. You wouldn't want to damage the equipment with incessant pressure! If you have questions about this, keep reading to learn more!
Will I Hurt The Aligners?
Invisalign is made of flexible plastic. While it's possible that frequent grinding can wear down the trays more quickly, keep in mind that these are not intended to last more than a few weeks. Your teeth will shift and move with each set, so new ones are required every couple of weeks until treatment is completed. Even if you do crush your pearly whites against the plastic while wearing them, you will be switching to a fresh set soon, anyway!
Unseen Benefit
If you're a frequent grinder, you might worry about ruining the trays; but Invisalign can actually serve to help you with this habit. If it tends to happen while you are awake, the aligners can help make you aware so that you can learn to quit. If it happens at night while you are asleep, the hard plastic will protect your natural teeth from additional wear and tear without you having to do a thing. This is just one more "invisible" benefit these clear braces can provide!
What If I Have A Night Guard?
While it's acceptable to wear Invisalign at night whether or not you grind your teeth, there is another consideration to take into account. If you are required to wear a night guard or splint, then this might not be the best fit. It's recommended that you wear the aligners for 20-22 hours daily, and if you remove them at night, then you won't be able to keep them in your mouth long enough for them to perform as intended. If you still are interested in Invisalign despite other night-time oral care, talk to your orthodontist. They can work with you on a solution.
It's valid to wonder about whether Invisalign is the right option if you know you frequently grind your teeth. Not only are they safe to wear, but they can even help with your condition. Don't let your worries hold you back from the treatment that's best for you!
About the Practice
At Serenity Orthodontics, you can expect long-lasting treatments in a pleasant and stress-free setting. With an all-digital approach, the team keeps up with the latest advances and innovations available in orthodontics today. If you are interested in Invisalign but have questions about whether it will work for you, you can schedule a free consultation through the website or by calling (678) 879-3006.
Comments Off on Can I Get Invisalign If I Grind My Teeth?
No Comments
No comments yet.
RSS feed for comments on this post.
Sorry, the comment form is closed at this time.