September 30, 2022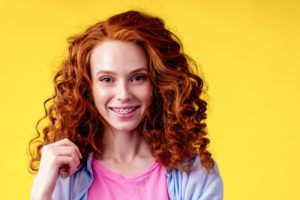 It seems like there are more options to straighten your teeth with each passing year, so selecting the one that suits you best can be challenging. Even as clear braces are gaining in popularity, traditional braces in Cumming still have their own benefits. As you consider your method of treatment, read on to hear from your orthodontist about when traditional metal braces are still the optimal selection for a straighter smile.
They Are Not Removable
You thought you were going to read about pros, not cons. But it really depends on the person. When someone has clear aligners, they must commit to wearing them for at least 22 hours each day but taking them out from time to time to have snacks can be tempting.
It can also be easy to forget to put them back in. With traditional braces, you don't need this same type of self-discipline to have a successful treatment. Just be sure that you are carefully cleaning your smile regularly.
Treatment Time Is Reduced
Because metal braces move teeth into their new locations using more force, you are looking at a faster treatment time. If you are only looking to close a few gaps or you want your teeth to be aligned quickly, traditional braces may be a more ideal option. Aligners typically require around 40 trays for the standard treatment, and patients still need additional tweaks to be made sometimes.
Responsibility Is Reduced for You
You're going to need to do an excellent job of cleaning braces no matter what variety you have. However, keeping track of where your braces are is a nonfactor when they aren't removable. Invisalign is a great option for many people, but when it comes to keeping track of the aligners, it can be easy for some to run into trouble.
Traditional braces mean one less thing you must worry about and be responsible for in terms of their location. If you are constantly losing your phone, keys, or TV remote, you may not want to risk it with clear aligners.
Superior Choice for Complex Issues
Clear aligners can fix a wide variety of issues, but if you have more complex orthodontic problems, they are probably not the right option for you. This is because aligners work by focusing pressure on the upper portions of the teeth, while brackets exert equal pressure and allow for greater movement. Ultimately, more realignment can take place with metal braces.
Clear aligners can be a great option, and you can certainly find blog posts driving that point home. But your best bet is to schedule a consultation with your orthodontist and discuss your particular needs. You just may discover that traditional braces in Cumming are the clear choice for you!
About the Author
Dr. Susan Podray-Donovan earned her dental doctorate at Temple University. She currently serves as the Vice President of the Georgia Society of Orthodontics and is a member of the American Association of Orthodontists. If you are interested in traditional braces, they can improve smiles of all ages, plus insurance and financing are accepted. Schedule an appointment on her website or call (678) 879-3006.
Comments Off

on What Are the Benefits of Traditional Braces?
No Comments
No comments yet.
RSS feed for comments on this post.
Sorry, the comment form is closed at this time.