October 5, 2022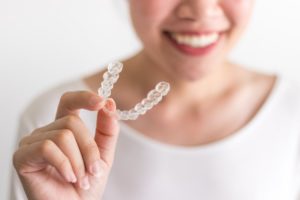 Do you wish your teeth were less crooked? If so, you've probably heard of Invisalign by now. Compared to traditional braces, these clear aligners can straighten your teeth more quickly, comfortably, and seamlessly. Maybe you've been waiting for the right moment to begin the treatment process. This is a sign that you should get started before 2022 draws to a close. Keep reading to learn three reasons why!
1. Make the Most of Your Dental Insurance Benefits
Although dental insurance plans vary, most of them have one thing in common: their benefits reset at the end of the calendar year. Any benefits you haven't used by 11:59 pm on December 31st expire and will not roll over into the next year. The majority of Americans with dental insurance end up not utilizing their coverage to the fullest, letting hundreds or even thousands of dental dollars go to waste.
Not all dental plans will cover Invisalign, but it's worth checking to see whether your plan offsets any out-of-pocket expenses associated with the treatment. Even if they only cover a small percentage of the cost of Invisalign, it can still make a huge difference. Plus, you'll be able to rest easy knowing you made the most of your insurance benefits!
2. Achieve Your Dream Smile Sooner
On average, Invisalign takes between 12 and 18 months to finish straightening the teeth, which is significantly shorter than metal braces! If your orthodontic issues are minor, you might even complete your treatment in as little as six months. At any rate, the sooner you begin the Invisalign process, the sooner you'll meet your smile goals. You may even be able to split up your payments between this year and the next in order to fully maximize your insurance coverage.
3. Prevent Future Oral Health Problems
Having a more conventionally attractive grin is certainly one of the main benefits of orthodontic treatment, but it may also lead to a healthier mouth in the long run. Gapped and crooked teeth create spaces where food particles and bacteria can get trapped. Therefore, people with misaligned teeth have a higher risk of tooth decay. Since Invisalign evens out the spacing and positioning of the teeth, it also reduces this risk and keeps your smile safe. This way, you can save more money down the road by avoiding the costs of treating oral health issues like cavities and gum disease.
Curious about whether Invisalign is right for you and whether your dental insurance plan covers it? There's no time like the present to schedule a consultation with your orthodontist in Cumming, GA. By beginning Invisalign treatment before the end of 2022, you'll be setting your smile and wallet up for success in 2023 and beyond!
About the Practice
At Serenity Orthodontics, we're happy to offer Invisalign clear aligners for teens and adults alike, as well as an array of orthodontic services for patients of all ages. Our team is led by three friendly, experienced orthodontists who make the Invisalign process as smooth and pleasant as possible. In addition to being in-network with several PPO dental insurance plans, we also offer interest-free financing to make it easier to afford a straighter, healthier smile. To get started, you can contact any of our six locations via our website.
Comments Off

on 3 Reasons to Start Invisalign Before 2022 Ends
No Comments
No comments yet.
RSS feed for comments on this post.
Sorry, the comment form is closed at this time.