December 21, 2017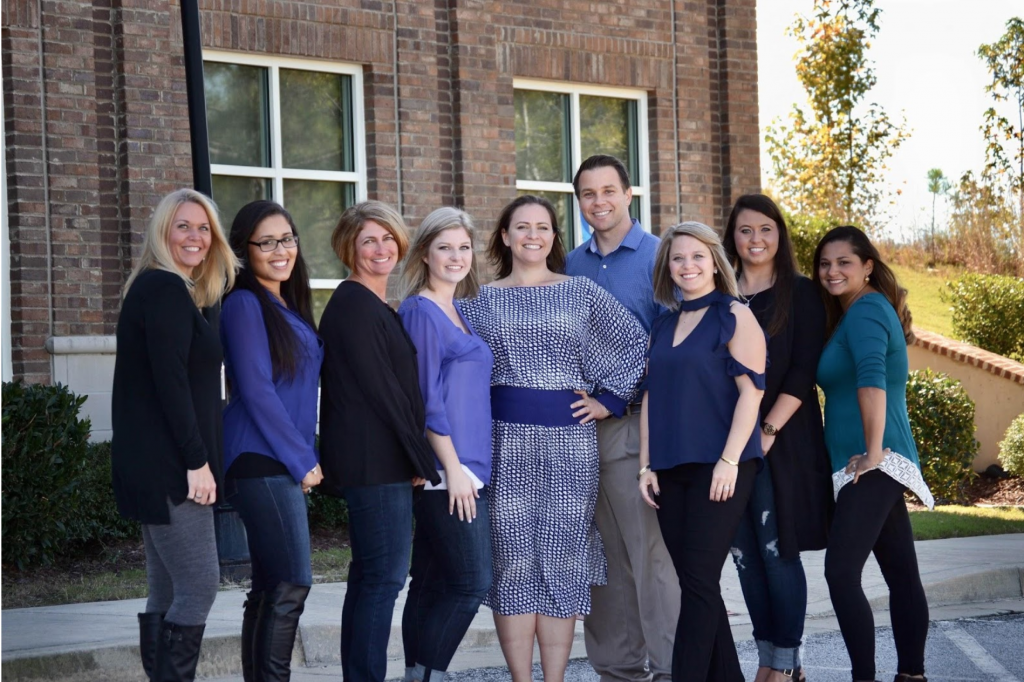 When you think about orthodontics, you probably picture a mouthful of metal, some pain and a high price tag. While that may be the stereotype, Dr. Susan Podray-Donovan and her team are changing the way people think – and smile. A native of Florida, Susan and her husband, Jon (who just happens to be an excellent Practice Manager) came to North Georgia

because of the excellent schools and job opportunities. After living near Lake Lanier, they fell in love with Cumming and decided to stay. They opened their first orthodontic office on Windermere Parkway, expanded into Vickery Village and most recently opened a third office in Braselton.
But it's not so much where they do it as what they do. At Serenity Orthodontics, Podray-Donovan and her team pride themselves on personalized care. "I focus on meeting each patient's goals and customize a treatment plan that harmonizes smile esthetics and function," Susan explains. "Our team utilizes the most advanced orthodontic and digital technologies." And the result? Serenity Orthodontics is able to complete most treatments in 15 months or less, maintaining an affordability and convenience that is unmatched here in North Georgia!
Orthodontics, like many other industries today, has a variety of options so there is not one secret formula to a great smile and healthy teeth. For this reason, Serenity Orthodontics approaches each patient individually, matching products with people to create lasting effects. "Orthodontics is an art," Podray-Donovan explains. "Once we decide on the individual treatment plan, we then select the orthodontic appliance that best suits and reflects that patient's style." From Neon Braces, Damon Braces, Clear options, aligners like the well-branded Invisalign and more, the team at Serenity is expert at using these tools to achieve the results that patients love. Communication during the orthodontic experience is also critical, so the Serenity team fosters an open door policy. "Families are always welcome to join our patients in the clinic to ask questions — we love to educate!" Patients and families can also connect with Serenity via phone, text or social media.
As an expert in her field, Susan Podray-Donovan loves what she does and that passion shines through when speaking with her. However, it's when she talks about her office team that she really lights up! "I have a dream team," she says. "We are truly a serenity family, operating on three core values – patient safety, beautiful treatment outcomes and positive experiences." At Serenity, everyone you meet exhibits a strong commitment to their patients, their practice and their community. It's no wonder that Serenity has founded a local chapter of Smile for a Lifetime Foundation, a charity that donates orthodontic treatment to patients in need.
A critical member of Susan's team, both at home and at work, is her husband Jon. "He is the Yin to my Yang," Susan says. "We founded Serenity so we could find serenity!" Coming from a business and accounting background as well as biomedical science, Jon is instrumental in detailing the administrative tasks of the practice as well as acting as the Treatment Coordinator. He will also tell you that he can predict what treatment plan Susan will recommend for a patient, based on her breathing patterns during the patient consult! Work/life balance is always challenging, especially when the lines between home and office are easily blurred, but Susan and Jon know that they are showing their children the possibilities that exist in today's world and how to combine work ethic and passion for a career you can love.
Eyes may be the windows to the soul, but it is a beautiful, healthy smile that makes that all-important first impression. Susan Podray-Donovan, husband Jon and the team at Serenity Orthodontics are committed to creating those smiles – one patient, one plan and one positive experience at a time!
For more information:
www.serenityortho.com
Comments Off

on Healthy Living a Spotlight on Serenity Orthodontics by Kim Williams
No Comments
No comments yet.
RSS feed for comments on this post.
Sorry, the comment form is closed at this time.