April 5, 2021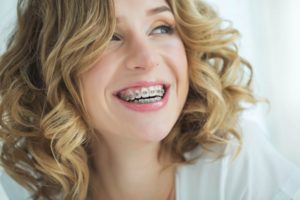 Would you like to achieve a straighter, healthier smile? Braces can certainly help you do that! However, it us understandable if you hesitate to commit to them. After all, the treatment process can take quite a while. Exactly how long is the average braces treatment time, and is there anything you can do to make it shorter? Let's talk about the answers to these important questions.
Average Treatment Time with Braces
The average treatment time with braces is anywhere from 12 to 36 months. That's a broad range, so it is important to understand the factors that can influence orthodontic time:
The extent of your orthodontic problems. Mild or purely aesthetic misalignment usually requires a relatively short treatment period. Such cases might require one year or less to address. More complex issues often require a much longer treatment. During your consultation, your orthodontist will thoroughly evaluate the state of your teeth and jaw before they can estimate how long your braces might take.
Age. Treatment might take slightly longer for adults. This is because adults' bones are harder and less malleable than those of children and teens.
Compliance. Your orthodontist will provide you with detailed instructions on which orthodontic accessories to use and how to protect your braces. Mistakes in compliance can significantly extend your treatment time.
How to Speed Up Your Treatment
One of the most important things you can do to make your treatment go as quickly as possible is simply to follow your orthodontist's directions. Some basic things you should do include:
Wear your accessories. For example, if your orthodontist directs you to wear elastics (rubber bands), you should certainly do so, even if it seems a little inconvenient.
Invest in an orthodontic mouthguard if you play sports. The last thing you want is for an accident to damage your braces and/or your teeth, leading to an extended treatment time.
Attend all of your scheduled appointments with your orthodontist. These appointments ensure that your braces are adjusted in a timely manner. They usually take place every 6 weeks or so.
Another thing you can do is request an appointment with a practice that offers accelerated orthodontics. There are some types of technology that can speed up bone remodeling of the jaw, which leads to faster tooth movements. For example, your orthodontist might prescribe AcceleDent. AcceleDent is a machine that you use every day to expose your jawbone to gentle, carefully calibrated vibrations. Consistent use of AcceleDent has been shown to reduce orthodontic treatment time by as much as 50%. Plus, it may reduce the discomfort that is often associated with braces.
It might seem like braces take a long time to work, but the end result is worth it! Plus, after you adapt to wearing them, the months will seem to fly by!
Meet the Practice
Drs. Susan Podray-Donovan and Kylie Lewis are the experienced, friendly orthodontists in our practice. They offer traditional braces, clear aligners, and a range of other treatments. Accelerated orthodontics are available for qualifying patients. To learn more about braces and what you can expect with them, contact us at 678-879-3006.
Comments Off

on How Long Do Braces Take to Straighten Teeth?
No Comments
No comments yet.
RSS feed for comments on this post.
Sorry, the comment form is closed at this time.