August 13, 2022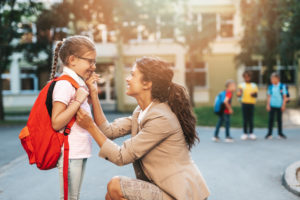 Back-to-school season is in full swing, which means as a parent, you'll be attempting to set your child up for academic success! One thing you may not have considered to be a contributing factor to their school performance is their oral health, but studies have shown that dental problems like cavities and tooth infections can impact how children and teens perform in school. Read on to learn more about this connection and what you can do to protect your child's oral health throughout the school year.
Connecting Oral Health & Academic Performance
A study published in The Journal of Pediatrics in 2012 analyzed data from the 2007 National Survey of Children's Health to determine whether dental health could impact children's performance in school as well as their psychosocial well-being. In their findings, researchers wrote, "poorer dental health is significantly associated with reduced school performance and psychosocial well-being. The results are consistent across several measures of dental health and outcomes."
This isn't to say that there's a singular and clear connection between these two factors, but it does mean that addressing and preventing dental health problems can benefit a child's ability to achieve in school and contribute positively to their psychosocial development.
Tips for Protecting Your Child's Smile
Parents have so much on their plates already, that when the school year begins, adjusting to your child's new schedule and needs can be difficult. By making sure that their smile is protected by implementing these tips for good oral hygiene in their life, you can scratch "visiting the emergency dentist" off of your possible stressors list:
Get your child used to their new back-to-school oral hygiene routine by reminding them to brush each night before going to bed and first thing in the morning before they start getting ready for school. Don't forget to have them floss, too!
Make brushing and flossing more enticing by purchasing fun oral hygiene products, like flavored toothpaste and themed toothbrushes with their favorite TV characters on them. Or, if they have braces, be sure to purchase tools, like water flossers, that can make maintaining good oral hygiene easier.
Get involved in their dental routine by modeling brushing twice a day and flossing with your child.
Pack tooth-friendly snacks in their lunches, like yogurt, fresh fruits and vegetables, and non-sugary drinks.
Schedule their bi-annual checkup and cleaning with their dentist.
Address orthodontic problems, like crowding and gaps between their teeth to prevent the buildup of plaque and tartar that could lead to dental decay and infections.
By following through on just a few of these tips each school year, you may be able to make your child's time at school a little more comfortable and carefree! Plus, with a good support system from your local dentist and orthodontist in Roswell, you'll have an extra set of eyes to ensure that your little one's smile remains in tip-top shape.
About the Practice
Our team at Serenity Orthodontics in Roswell is lead by three knowledgeable, board-certified orthodontists who have specialized training in providing high-quality orthodontics treatments for patients of all ages, including children and teens. With several decades of experience under their collective belts, we're able to provide long-lasting, quality care to families in six different locations across Georgia. For questions or to schedule a consultation, visit our website or call 470-842-9111.
Comments Off

on Uncovering the Link Between Oral Health & Academic Performance
No Comments
No comments yet.
RSS feed for comments on this post.
Sorry, the comment form is closed at this time.