October 25, 2022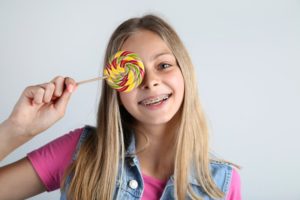 With Halloween just around the corner, your child probably couldn't be more excited – they get to dress up in a spooky costume and indulge in plenty of candy! However, if your son or daughter wears braces, they need to be especially careful about which sweet treats they eat. Some candies can seriously damage the brackets and wires, which could cause discomfort and jeopardize your little one's orthodontic treatment. Read on as an orthodontist in Braselton reveals the three worst Halloween candies for your child with braces.
1. Sticky/Gummy Candies
Gummies, taffy, and other sticky candies are arguably the worst type of candy for the teeth, particularly for people who wear braces. Pieces of the candy can easily cling to the wires, becoming quite difficult to remove. Until the candy is cleared away, harmful bacteria in the mouth will likely be drawn toward it. As they feed on the candy, they release an acidic waste product that erodes tooth enamel, leading to decay. Additionally, the force required to get rid of the remnants of the sticky candy could all too easily lead to a lost bracket.
2. Sweet Popcorn
Even without braces, getting popcorn kernels unstuck from the teeth is frustratingly difficult. The kernels might get lodged between the wires and the teeth, so they can't be easily removed with just brushing or flossing. Caramel popcorn makes the situation even worse by adding stickiness into the mix. Like with gummy candies, caramel popcorn can get attached to the teeth and underneath the wires, increasing the risk of damage to the braces as well as tooth decay.
3. Hard Candies
It's certainly possible to just let hard candies like lollipops and jawbreakers melt in your mouth, but doing so bathes your teeth in sugar for an extended period of time. Besides, it can be difficult (especially for kids) to resist the temptation to simply chomp down on these candies. As you may have guessed, biting down on hard candies can wreak havoc on orthodontic appliances. It's also a good idea for your child to avoid candies that have a hard outer shell, which may loosen or dislodge brackets by getting stuck in the braces.
It may be the spooky season, but the last thing you and your child should be dealing with this Halloween is an orthodontic emergency. As long as you're extra careful about the candy your child eats, their treatment should proceed without a hitch. They should have a straight and healthy smile before you know it!
About the Practice
At Serenity Orthodontics, we make the process of straightening teeth as smooth, pleasant, and rewarding as possible. Our three experienced, friendly orthodontists proudly offer a full range of orthodontic services for children, teens, and adults alike. For your convenience, we have six locations, and if you have any questions about what your child should or shouldn't eat with braces, or if they have an orthodontic emergency, you can reach out to us via our website or you can call our Braselton location at (678) 879-3006.
Comments Off

on The 3 Worst Halloween Candies for Your Child with Braces
No Comments
No comments yet.
RSS feed for comments on this post.
Sorry, the comment form is closed at this time.