December 12, 2022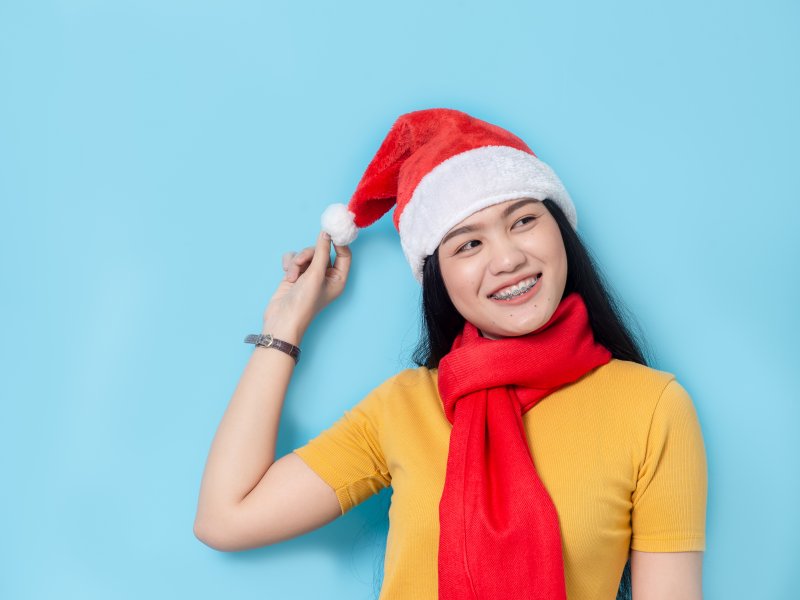 The holidays are many people's favorite time of year. Whether it be the food, the family, or just having a break from work and school, there's a lot to love about this season.
But among dentists and orthodontists, the holidays are thought to be the worst time of year for people's teeth. For a myriad of reasons, people (and especially people with braces) can see their oral health start to slip this time of year. Here's a guide that can tell you why.
Cold Air
The human body is incredible. It can take care of itself in a million ways that you may not even be aware of. For example, your mouth can use saliva to naturally wash away food and bacteria, which can help combat gum disease and tooth decay.
However, dry winter air can reduce the amount of moisture in your mouth, hindering its natural cleaning process. That means you'll need to put in a lot more effort to clean your teeth and your braces.
One way to combat dry winter air is to carry a bottle of water with you wherever you go. That will help you stay hydrated, which can facilitate saliva production.
Bone-in Meat
Turkey and chicken are holiday classics. If you have braces, they might be one of the holiday foods you're most excited about, because you don't have to feel guilty about eating them. However, that excitement could actually work against you.
Accidentally biting into a turkey bone is an easy way to chip a tooth or pop a bracket. You can still enjoy these holiday foods, but try pulling them off the bone before you do.
Holiday Sweets
Candy Canes, caramel, toffee, and pie are incredibly tempting this time of year, but all of them can wreak havoc on your oral health. Sugar is of course an issue, but many of these sweets pose other hazards. Hard candy and toffee can lead to damage to your teeth or your braces, and chewy caramel can be hard to clean off of an orthodontic appliance. It's best to fill up on savory foods so that you won't be tempted to overindulge in sweets.
While it's easy to argue that the holidays are the absolute worst time for your oral health, there are ways you can prevent any damage. Keep these tips in mind, and your teeth and your braces should remain intact throughout the holiday season.
About Our Practice
Many people aren't the biggest fan of their orthodontist. At Serenity Orthodontics, we want to change the way that you feel. We treat our patients with care and respect, and we've furnished our office with the latest in dental technology. The result is a level of orthodontic treatment you can't get anywhere else.
If you have any questions about how you can take care of your braces over the holiday season, we can be reached at our website or by phone at (678) 879-3006.
Comments Off

on 3 Reasons Why the Holidays are the Worst Time of Year for Braces
No Comments
No comments yet.
RSS feed for comments on this post.
Sorry, the comment form is closed at this time.