January 19, 2023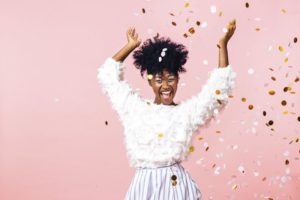 Now that it's January, are you looking for simple but significant New Year's resolutions to make and keep in 2021? If you have braces or Invisalign, your smile is a great place to start! Now is the perfect time to rededicate yourself to some healthy habits that will benefit your oral health and keep your orthodontic treatment on track. Here are five great New Year's resolutions you can make this year for a happier and healthier smile.
1.) Make Time for Brushing
You should always focus on practicing great oral hygiene, but it's especially important during your orthodontic treatment. Studies suggest that teeth move more efficiently in a healthy mouth, and issues like gum disease and cavities can potentially delay your treatment timeline. This year, start timing yourself while you brush to make sure you're cleaning for a full two minutes twice a day.
2.) Learn to Love Flossing
If you're not a huge fan of flossing, you're not alone. Especially if you have traditional metal braces! However, while you may be tempted to slack off on this important habit, flossing is the only way to keep plaque, bacteria, and food debris from collecting between your teeth. Flossing once a day can go a tremendously long way in preventing serious oral health issues later! If you're having trouble flossing around your braces, talk to your orthodontist about using interdental brushes, a Waterpik, or other ADA-approved flossing tools.
3.) Stick to Your Treatment Plan
No matter what orthodontic treatment you're undergoing, its effectiveness will depend a lot on your everyday habits. Invisalign wearers need to make sure that they're consistently wearing their aligners for 20-22 hours every day to keep their teeth moving in the right direction. If you have braces that require extras like rubber bands, it's essential that you wear them as instructed by your orthodontist for the best results!
4.) Eat More Smile-Friendly Snacks
Choosing to eat healthier is a popular New Year's resolution for good reason! Not only will it help you lose weight, feel more energized, and improve your mood, but it's a great choice for your smile as well! Many unhealthy snacks leave behind sticky, sugary residue that can get trapped underneath your Invisalign aligners or between your wires and brackets. Eating more nutritious foods like yogurt, soft or chopped up vegetables, and lean proteins will lower your risk of tooth decay and improve your oral health instead.
5.) Don't Put Off Your Checkups
There may be times when you feel like postponing or putting off your orthodontic checkups, but remember, this could easily cost you much more time in the long run! Visiting your orthodontist regularly lets them monitor the progress of your treatment and ensure you're still on track. Additionally, this gives them a chance to spot and stop any issues as early as possible with small adjustments instead of complex procedures.
If you have braces or Invisalign, you've already made an important commitment to your health and your confidence. Stay on track for your new smile by adopting these five New Year's resolutions!
About the Practice
At Simply Orthodontics, we go above and beyond to help patients of all ages in Rutland and the surrounding communities get the straight and healthy smiles they deserve. We're proud to offer a wide array of orthodontic treatments, including everything from Invisalign to traditional braces. In addition, our team of highly experienced orthodontists will be with you every step of the way to help make sure your treatment goes as smoothly and efficiently as possible. To learn more, we can be contacted online or at (508) 471-5556.
Comments Off

on Top 5 New Year's Resolutions If You Have Braces
No Comments
No comments yet.
RSS feed for comments on this post.
Sorry, the comment form is closed at this time.