June 10, 2022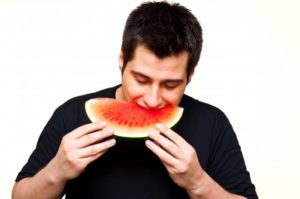 Summer is officially right around the corner! If you're like most, you're probably looking forward to indulging in all your favorite tasty seasonal treats in the coming months. However, those who are currently undergoing orthodontic treatment may be wondering if there are any restrictions they should know about. While there are many delicious summer foods you can enjoy with braces, there are also a few items you should avoid. Read on to learn more from your orthodontist in Cumming about what you can eat during the sunny season.
Summer Foods to Avoid
Eating the wrong food can throw a wrench in your summer plans which is why you should be mindful of your dietary choices. That said, here are a few summer foods you should avoid:
Raw Fruits and Vegetables
Even though fruits and vegetables are an essential part of a healthy diet, biting into them can damage your brackets or wires. Raw foods like pears, apples, carrots, and corn on the cob are hard and can cost you an additional trip to your orthodontist's office. As long as they are cooked beforehand to make them soft, you can safely incorporate them into your diet.
Crunchy Grains
Although most grains are soft and easy to chew, some can cause issues. Hard crusty bread, bagels, and crackers can easily become embedded in your metal braces. You should take a few seconds to warm up bread in the microwave to make it soft and easy to consume.
Meat on the Bone
Are you looking forward to all the summer cookouts and barbecues? They usually offer several delicious meat dishes, some of which can be hard on your braces. Foods like beef, pork ribs, turkey legs, and chicken wings can get stuck in your teeth or loosen bands. Luckily, you can still enjoy these meats as long as you cut them into bite-sized pieces.
Summer Foods You Can Enjoy
There are several mouth-watering summer foods you can enjoy even if you have braces! For example, you can indulge in the following treats without having to worry about them hampering your orthodontic treatment:
Fresh-fruit smoothies
Ice cream shakes and malts
Macaroni and cheese
Watermelon
Popsicles and fudgesicles
Cooked or grilled vegetables
Soft pastries
Your orthodontic treatment doesn't have to hold you back this season. By choosing the right summer foods, you can ensure your smile stays stellar and damage-free!
About the Practice
At Serenity Orthodontics, we offer free consultations so you can ask questions about any service and get a customized treatment plan along with an accurate estimate. We are the orthodontist in Cumming you can count on. If you are interested in traditional braces, we offer them to patients of all ages, plus insurance is accepted and financing is available. Schedule a consultation on our website or call (678) 879-3006.
Comments Off

on Summer Foods to Enjoy & Avoid with Braces  
No Comments
No comments yet.
RSS feed for comments on this post.
Sorry, the comment form is closed at this time.