June 2, 2023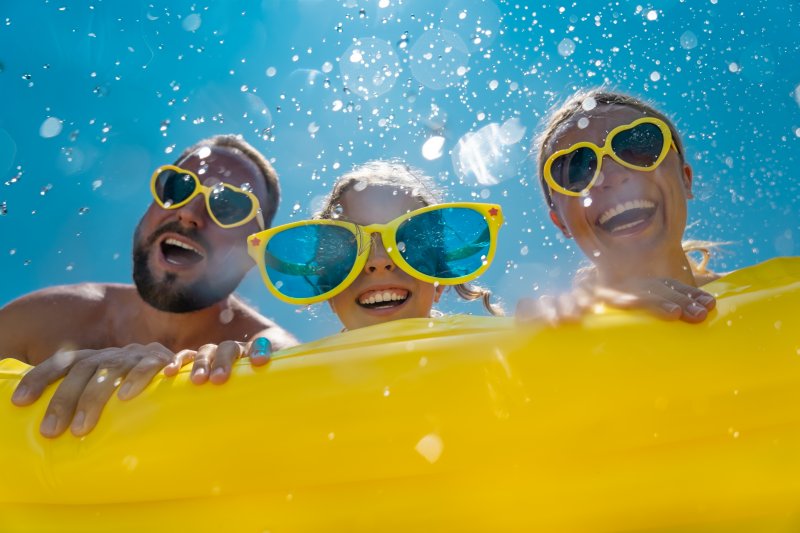 Summer is a time for students to take a break from their studies, but the last thing you want is to take a break from dental hygiene, especially if you have braces. Your oral health routine is key to preventing cavities and tooth decay alongside regular dental checkups. A sudden toothache can easily ruin that vacation you've been anticipating all year. If you'd rather hit the beach than hide in your hotel room in horrible discomfort, read on for some tips on summertime oral hygiene.
What Do I Need to Care for My Teeth on the Road?
There's no summer break from the war against tooth decay and gum disease, so you're going to need to bring your arsenal on your trip. Firstly, your kit should include floss, toothpaste, a toothbrush, a toothbrush cover, and mouthwash. If you have braces, you will need to include threader floss, a gum massager, an interdental brush with replacement heads, orthodontic wax, and a water flosser. You might want to pack these items at home as they can be much more expensive at your destination.
It is essential to stick to your routine when away from home. Blush and floss daily. Go through the same nightly regimen as always with your braces. You don't get to take a break from caring for your teeth any more than you get to take a break from staying hydrated.
What Should I Be Aware of While Traveling?
There are some common misconceptions about what counts as oral hygiene on vacation. To clarify any confusion:
Brushing once a day is insufficient; brush twice a day, or after each meal if you have braces.
Using mouthwash doesn't count as brushing.
Brushing your teeth with a twig and campfire ash doesn't count as oral hygiene.
Being on vacation is a time to indulge in tasty foods, but it is important to pay attention to how much sugar you are getting. Stay hydrated so your mouth has enough saliva to protect and clean itself. Fluoridated tap water reinforces your enamel. Tea can suppress the growth of bacteria. Avoid sugary beverages or alternate them with water to help flush the excess sugar out. If you're going to indulge in acidic soda pop, use a straw to keep most of the liquid away from your teeth.
While good oral hygiene might seem like a hassle, especially if you have braces, it keeps you looking good on the beach and in selfies. To make sure your next vacation becomes something you wish you remember, don't skimp on your oral health when you're having fun this summer.
About the Practice
Serenity Orthodontics straightens out smiles in Cumming, GA, and the surrounding areas. Our experienced and compassionate team goes the distance in keeping patients comfortable and their smiles stunning. For more information on oral care on vacation, find your nearest location online or call the Windermere location at (678) 879-3006.
Comments Off

on Must-Know Tips for Safeguarding Your Smile This Summer Vacation
No Comments
No comments yet.
RSS feed for comments on this post.
Sorry, the comment form is closed at this time.