December 23, 2022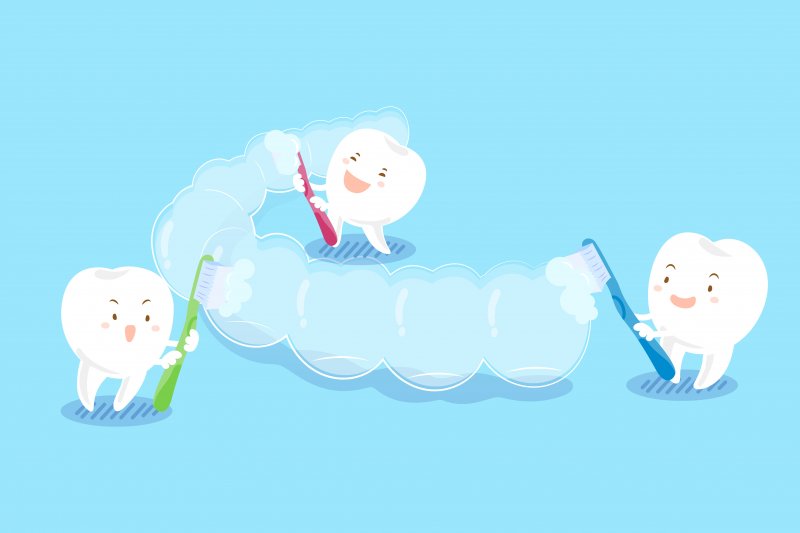 Invisalign aligners are an incredible piece of orthodontic technology. Years of research and study have gone into making the treatment as effective as it can be, and the result is a way to straighten your teeth that is simple, discreet, and incredibly convenient.
A lot of work went into crafting your aligners, so when you receive them, you have to put in the work to keep them clean. It's recommended that you clean your aligner every time you need to put them back in. Here's a guide to how you can do that, and what to avoid if you don't want to ruin your aligner.
How to Clean your Invisalign Aligner
It's recommended that you brush and floss your teeth after every meal and before you replace your aligner. When you do that, it's also important to brush your aligner as well. Use a soft-bristled toothbrush and an all-purpose toothpaste to gently scrub your tray before replacing it.
Still, you're going to be wearing your Invisalign aligners all day, every day. It's recommended that you also soak your aligners at least once a day to keep them clean and fresh. They sell Invisalign cleaning crystals designed specifically for this purpose, but denture cleaners work just as well.
Cleaning Products to Avoid
Cleaning your Invisalign aligners is fairly simple, but there are a few things to keep in mind as you figure out your hygiene routine. For example, there are some cleaning products that can potentially damage your Invisalign aligners.
First of all, it's worth saying that you should only use cleaners designed for dental implements on your aligner. Avoid using bleach or other household cleaning products, as these can wear down the plastic on your trays.
You should also avoid cleaning your aligners with too-hot water or, worse, cleaning them in the dishwasher. This can cause the plastic on your aligner to warp, rendering it unusable.
Finally, you'll have to be a little careful about which brush and toothpaste you use. Gritty toothpaste or hard-bristled toothbrushes can scratch up your trays, making them more susceptible to breaking.
This can be a lot to take in when you first get your aligners, but ultimately, taking care of your trays will be fairly simple. Your dentist has worked hard to get you your aligners, so taking care of them should be a piece of cake.
About Our Practice
At Serenity Orthodontics, we want to make a beautiful smile available to everyone. That's why we offer free consultations, in-house financing, and six convenient locations to our patients. We also have a team of experienced dentists on staff, so we're confident that we can address any orthodontic issue you might be having.
If you have any questions about taking care of your Invisalign aligners, we can be reached at our website or by phone at (678) 879-3006.
Comments Off

on How NOT To Clean Your Invisalign Aligner
No Comments
No comments yet.
RSS feed for comments on this post.
Sorry, the comment form is closed at this time.