December 3, 2022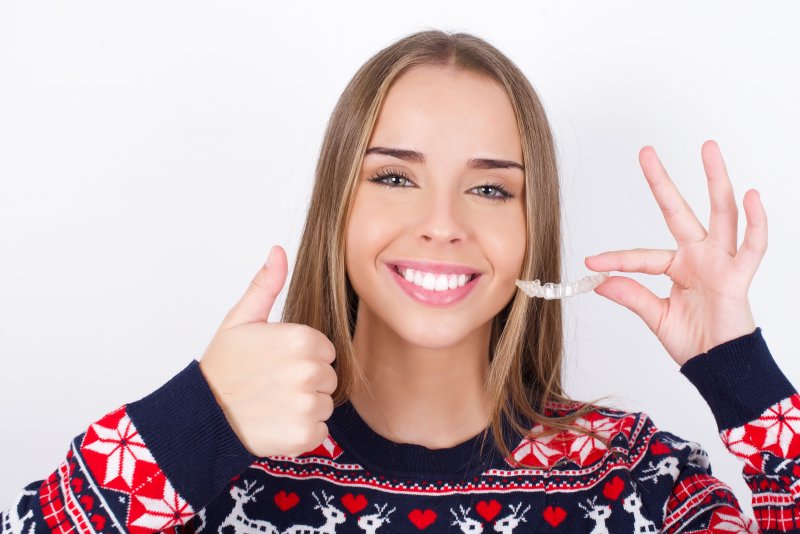 If you're starting your Invisalign treatment soon, there's a lot to be excited about; you're taking the first step toward the smile of your dreams. But patients who are starting their treatment during the holiday season may worry that they won't be able to properly care for their aligners.
Thankfully, Invisalign maintenance is fairly simple once you're used to it. So long as you remain disciplined, you should have no problem with your aligners. Here are a few ways to take care of them over the holiday season.
Wear Your Aligner
The first and most important thing to remember about your Invisalign treatment is to wear your aligner for 20-22 hours a day. You need to wear your aligners for that amount of time in order to ensure that they can move your teeth properly.
Over the holidays, it can be tempting to keep your aligners out and snack on leftovers throughout the day. To resist the temptation, it's best to eat to your heart's content at meals while you have your aligners out.
Carrying Case
One of the biggest hazards to your Invisalign treatment over the holidays is losing your aligners. If you're traveling, it can be easy to leave your trays somewhere without thinking, which can throw you seriously off-track.
If you don't have one already, it's worth investing in a personalized carrying case for your aligners. You won't have to leave your tray wrapped in a napkin or on a try, decreasing the risk that you'll accidentally throw it away.
Clean After Meals
After you've finished eating, it's important to clean both your teeth and your aligners before putting them back in. If you don't, food particles that are trapped in your tray can feed bacteria in your mouth, increasing your chances of both tooth decay and gum disease.
Remove Aligners Before Eating and Drinking
You might be tempted to just leave your aligners in while you eat so that you don't have to clean them, but that would be a serious mistake. The plastic on your aligner isn't strong enough to chew food, so you may break them if you try. You should also avoid hot coffee and ice-cold water, as extreme temperatures can potentially warp your trays. Room-temperature water should be the only thing you consume while wearing your aligners.
Ultimately, taking care of your aligners will be easy once you're used to it. If you manage to stick to these principles, you can enjoy the benefits of a perfectly straight smile.
About Our Practice
At Serenity Orthodontics, we believe that orthodontic care is about more than straightening your teeth. We want to give people the knowledge necessary to take charge of their oral health, and the confidence to love their smiles. We also offer free consultations, so if you're curious about Invisalign treatment, what have you got to lose?
If you have any questions about taking care of your teeth over the holiday season, we can be reached at our website or by phone at (678) 879-3006.
Comments Off

on How to Take Care of your Invisalign Over the Holidays
No Comments
No comments yet.
RSS feed for comments on this post.
Sorry, the comment form is closed at this time.