May 8, 2023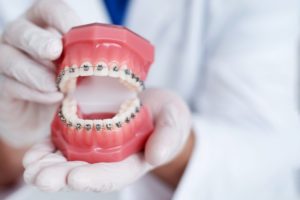 Metal braces have been around for over 200 hundred years. They were first introduced in 1819 and involved wrapping each individual tooth with a cord to move them into the desired position. It wasn't until the early 1970s that traditional braces evolved into what they are today. By bonding brackets to each tooth, wires are used to straighten teeth reliably and easily. However, despite the modern advancements in metal braces, there can still be a few problems that pop up during treatment. Read on to learn five of the most common ones and how you can keep your smile happy on your journey toward aligned teeth!
#1. Swollen Gums
While it may not feel like it, inflamed gums are actually a positive thing during orthodontic treatment because it helps your teeth move more easily. However, if the swelling becomes too severe, it can make aligning teeth more difficult (not to mention more painful!). If your swollen gums become too uncomfortable, visit your dentist as soon as possible. They will be able to get to the root of the issue and give you the necessary treatment, such as a deep cleansing or encouraging a change to your oral health routine.
#2. Soft Tissue Irritation
When first starting your journey toward straighter teeth with braces, you can expect a bit of irritation to your mouth as you adjust to the new brackets and wires. You are likely to feel the most discomfort on the inside of your cheeks and lips. Although it will get better with time, dental wax is an excellent immediate solution. By placing this water-resistant, flavorless material over the sharp edges of your braces, you will ease the irritation they cause. When you are ready to eat or clean your teeth, you can simply remove the wax.
#3. Loose Teeth
Your teeth may feel a bit loose as they are moving into their correct position. One of the best ways to give your smile more stability is to steer clear of hard, crunchy, or chewy foods that can make them move around more. Choose more braces-friendly options, such as soft and nutritious foods like yogurt, soups, and oatmeal. If your teeth continue to feel loose after your braces have been removed, wearing your retainer consistently should help to firmly set them in their desired permanent position.
#4. Poking Archwire
The archwire in your braces is essential in gently guiding your pearly whites into the right positions. However, it can be broken due to the constant tension. This will result in the sharp edge poking your mouth. A broken archwire is not only very uncomfortable, but it can also cause an infection in your mouth, which could possibly delay your final smile. This is why it's crucial to visit your dentist right away so it can be fixed. To keep you comfortable in the meantime, you can place dental wax over the end of the archwire so it is not so irritating.
#5. Temporary Changes to Speech
Generally, most people with braces don't experience changes to their speech when they first get them placed. However, sometimes there can be temporary changes in how you speak since your tongue moves against the back of your teeth to create distinct sounds. This can require a bit of an adjustment if your orthodontic is in the way. The good news is that the adjustment period won't be long! Once you get used to how your braces fit in your mouth, you will begin to speak more clearly and easily.
About the Practice
Serenity Orthodontics serves people of all ages in six different locations through the expertise of their team of dentists. Their goal is to help you achieve not only more aligned teeth but a healthier, stronger, more confident smile! With personalized treatment plans from advanced orthodontic experts, they can help you through every stage of your journey with traditional braces. To schedule an appointment, contact them through their website or call (470) 589-4475.
Comments Off

on 5 Common Problems with Braces…& How to Treat Them!
No Comments
No comments yet.
RSS feed for comments on this post.
Sorry, the comment form is closed at this time.