February 9, 2023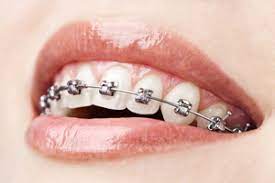 It's Children's Dental Health Month, and that means it's the perfect time of the year to get your child some new oral hygiene products. Though there is a range of products on the market, children who have braces may need different tools to keep their smiles in good shape. Continue reading to learn about four products that will help your child keep their smile healthy this month and beyond.
#1: Electric Toothbrush
It's possible to maintain a healthy smile using the right technique with a manual brush, but many people have more success using an electric toothbrush. This is because they are more effective at plaque removal, meaning your little one will be less likely to develop cavities. This will prevent decay from interrupting their orthodontic treatment.
#2: Orthopick Flossers
These are flossers that are a good alternative to traditional dental floss for people who have braces. They are made from plastic with one side featuring a toothpick that can easily glide between brackets and the other side featuring dental floss.
#3: Fluoride Mouthwash
Braces create many places for bacteria and food particles to hide. This can increase your child's risk of developing cavities. Additionally, decalcification can occur with braces. This happens when minerals are pulled from the bone or teeth and leads to chalky white spots when the braces are removed. It may also eventually turn into tooth decay.
Fluoride mouthwash can help limit decalcification. It can also get rid of bacteria and food particles your child missed when brushing and flossing.
#4: Orthodontic Relief Wax
Dental wax helps protect your child's mouth from the sharp metal edges of braces. It's solid at room temperature and can be softened and shaped using the warmth of their hands. The wax can then be smoothed onto their braces to create a buffer between the brackets and your child's tongue, cheeks, and lips so they don't get scratched or poked.
About the Practice
Serenity Orthodontics treats patients from the comfort of their six Georgia-based offices so that quality orthodontic care is accessible wherever you go. If you are interested in getting braces for your child, they offer both traditional orthodontics and a range of other options. They can also recommend dental products and tools to help you and your little one keep their beam in good shape. If you are interested in learning more about braces at Serenity Orthodontics or want to set up an appointment with their team, you can find the contact information for all of their offices on their website.
Comments Off

on 4 Oral Hygiene Products for Braces This Children's Dental Health Month
No Comments
No comments yet.
RSS feed for comments on this post.
Sorry, the comment form is closed at this time.