November 14, 2022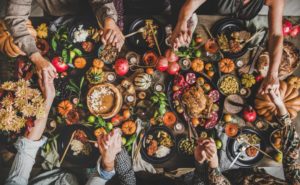 That gravy your grandmother made to go on the Thanksgiving turkey seems even better than last year! Between all the eating and catching up with relatives you haven't seen in a while to chat, your teeth have a lot to do this time of year. There are some holiday dental health tips to be aware of so you can take great care of your teeth while you are making memories. Keep reading to get some advice from your orthodontist in Braselton.
Skip the Wine and Dine Plan
Or at least pass on the wine part if you can help it. The tannins found in wine can stain your teeth and the acid weakens your enamel. Once the enamel is gone, you can never get it back. The same goes for acidic fruit juices like apple juice or orange juice that might be found at the kids' table. If you partake in these beverages, be sure to brush afterward.
More Protein Please
Duck, ham, and certainly turkey are all good options if you lean toward more protein in the form of a second helping of meat and vegetables for the benefit of your teeth. Also, starchy side dishes like stuffing and dinner rolls are problematic for your enamel. Like sugar, starch sticks to your teeth and feeds the acid-producing bacteria that cause cavities.
Avoid the Sweets If You Have the Strength
The second helping reference in the last paragraph was in regard to going with more meat and vegetables instead of loading up a big dessert plate – if you have the willpower, of course. It's not shocking to hear that just about any sort of pie and even cranberry sauce is bad news for your teeth. By passing on the pie plate, you are helping prevent bacteria from feeding off all that sugar. If you must delve into dessert, be sure to rinse your mouth with water afterward and brush your teeth when you can.
Having Floss Handy Is Always Smart
Some people eat throughout the day on Thanksgiving. It's easier on your teeth just to eat a couple of times so sugar isn't giving them trouble throughout the day, but either way, it's a great idea to floss after any meal. You'll prevent the buildup of food particles between teeth that you might not even know are there otherwise.
It takes more self-discipline and effort to follow through on some of these holiday suggestions, but looking at the long-term welfare of your teeth, they can make an enormous difference. These tips certainly apply to your meals on Independence Day, St. Patrick's Day, or next Tuesday – you get the idea. One more suggestion: after you navigate the challenges of holiday dining, visit your orthodontist in Braselton so they can make sure your smile treatment remains on the right track!
About the Author
Dr. Susan Podray-Donovan earned her dental doctorate at Temple University. She currently serves as the Vice President of the Georgia Society of Orthodontics and is a member of the American Association of Orthodontists. If you are interested in orthodontic treatment, she offers an array of services. Schedule a free consultation on her website or call (678) 879-3006.
Comments Off

on Reasons to Appreciate Your Teeth This Thanksgiving
No Comments
No comments yet.
RSS feed for comments on this post.
Sorry, the comment form is closed at this time.