December 12, 2020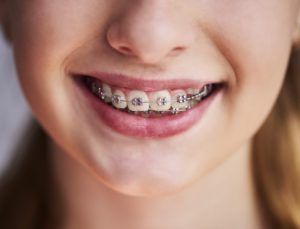 Braces are incredibly common in childhood. In fact, studies estimate that about 75% of children and teens develop dental problems that require orthodontic treatment. So how can you tell if your son or daughter needs braces? It's important to know what early warning signs to look out for if you want to prevent serious complications in the future. Here are seven of the most common indications for braces for children.
1.) Early or Late Loss of Baby Teeth
Baby teeth play a key role in the development of permanent teeth. Not only do they hold space in the jaw for adult teeth, but they help them come in correctly. If your child loses their baby teeth earlier or later than expected, their permanent teeth may come in crooked or become trapped under the gums.
2.) Prolonged Thumb Sucking
Thumb sucking is a natural reflex in children that typically fades around the age of four. However, if your child still sucks their thumb at the age of six, the extra pressure in their mouth can influence how the rood of their mouth forms as well as the angle of their adult teeth.
3.) Breathing Through the Mouth
If your child's teeth or jaws aren't coming together correctly, or if their tongue doesn't fit properly on the roof of their mouth, they may find it more comfortable to breathe through their mouth.
4.) Difficulty Chewing or Biting
Misaligned teeth or jaws can make it much more difficult for your child to chew or eat properly. Take note if your little one seems to frequently bite the inside of their cheek unintentionally.
5.) Misaligned Jaw or Bite Problems
Does your child have and overbite, underbite, or crossbite? Bite problems caused by jaw misalignment are a very common orthodontic issue in children. When bottom teeth overlap the top teeth or if the top teeth protrude over the bottom teeth, they're at a much higher risk of dental trauma or injury.
6.) Crowded or Overlapping Teeth
The most well-known sign that a child needs braces is crooked teeth. Orthodontic treatment is the best way to straighten out leaning, wayward, or overlapping teeth into a uniform set of pearly whites. Not only is this more aesthetically pleasing, but it helps lower your child's risk of chipping or cracking their teeth.
7.) Spaces or Gaps Between teeth
The opposite issue of crowded teeth is just as problematic for your little one's smile. Gaps or spaces between the teeth can collect plaque and bacteria, which leads to higher chances of tooth decay and gum disease.
Remember, the American Dental Association recommends that children get their first orthodontic checkup by the age of seven. Correcting crooked teeth early in your little one's life will help set them up for years of happy, healthy smiles!
About the Author
Dr. Susan Podray-Donovan of Serenity Dental has been serving the smiles of Windermere, Vickery Village, Braselton, and the surrounding communities for over a decade. Currently, she is an active member of the American Association of Orthodontics and serves as the Vice President of the Georgia Society of Orthodontics. As such, she is proud to offer a wide variety of the latest, most effective, and most comfortable orthodontic treatments for every kind of smile. To see if your child needs braces, don't hesitate to contact her via her website or at (678) 879-3006.
Comments Off

on 7 Signs Your Child May Need Braces
No Comments
No comments yet.
RSS feed for comments on this post.
Sorry, the comment form is closed at this time.